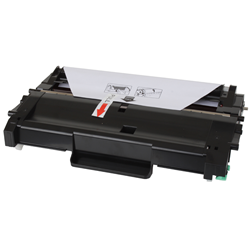 BRAND: Generic
Generic Brother DR420 Compatible Black Drum Unit for Brother MFC-7360N 7460DN 7860DW HL 2220 2230 2240 2240D 2270DW 2280DW Printer (NO Toner Cartridge Included)
SKU: 139-084-001
$17.80   Free Shipping
(3 REVIEWS)
Generic Brother DR420 Compatible Black Drum Unit for Brother MFC-7360N 7460DN 7860DW HL 2220 2230 2240 2240D 2270DW 2280DW Printer (NO Toner Cartridge Included)
Manufacturer Part # DR420
Product specifications
MPN:
Compatible with DR420
Product type:
Compatible Drum Unit
Color:
Black
Cartridge duty cycle
12,000 Pages @5% Coverage
Note: Drum Only, NO Toner Cartridge Included.
This compatible drum unit is neither made nor endorsed by the OEM manufacturer.
Customers Who Viewed This Item Also Viewed
Generic Brother TN450 (TN 450) Compatible High Yield...
SKU: 139-083-001
$9.95
Brother DR400 (DR-400, DR 400) Compatible Black ...
SKU: 139-007-001
$22.95
Canon CLI-8 (CLI8, CLI-8Bk, CLI-8C, CLI-8M, CLI-8...
SKU: 125-227-001
$6.95
Brother TN650 (TN 650, TN620, TN 620) Compatible...
SKU: 139-072-001
$19.95
Product Reviews
I been oprdering this brandsice last four years for my business. Have no problem. It's a cheaper then generic brand. Thank you Meritline to carry this product.
(1 people found this comment helpful, 0 did not)jagpate on 4/8/2015
Items delivered promptly as promised, in good condition, and at fair prices. How can it get better than that ?
(1 people found this comment helpful, 0 did not)Rick on 10/21/2014
I was hesitant to purchase this because I needed a drum for a MFC 7240 and it was not listed. But it looked like the same drum I needed. So I purchased it and sure enough it fit. It arrived in less than a week and I am very happy with my purchase of the drum. The directions on how to reset the drum counter were also helpful. Thank you!!
(1 people found this comment helpful, 0 did not)Donna Lee on 5/22/2014
Showing comments 1-3 of 3