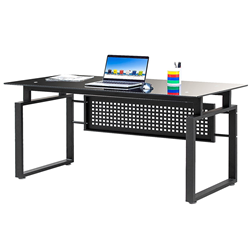 BRAND: Merax
Merax Computer/PC Work Station with Glass Table Top and Metal Leg Office Computer Desk, Black Finish
SKU: 0067303-001
$139.90$159.90   Free Shipping
(2 REVIEWS)
Merax Computer/PC Work Station with Glass Table Top and Metal Leg Office Computer Desk, Black Finish
Product Description

For a really sophisticated look, a glass-topped desk is the epitome of style and elegance. Its elegant lines, also has very practical features that complement its striking good looks.

The high-quality powder-coated steel frame has an 9mm toughened glass desktop, with steel detailing to add to its impressive looks.

Being a good size; 55.1" wide by 27.5" deep, this desk is still practical enough for most offices, and it has a height of 29.9", giving plenty of leg room beneath.

Computer/PC Work Station in black colour surfaces
Stylish glass work area provides plenty of room to spread out
Also features cantilever design legs for strength and ease of accessty
Measuring 55.1" W x 27.5" D x 29.9" H, this desk is large enough to fit your computer and other necessities

Product Reviews
I ordered this item and received it very quickly and with no damage. Was easy to put together and is very sturdy! I am very pleased with the quality structure and plan to purchase three more in the very near future.
(0 people found this comment helpful, 0 did not)Rob on 4/1/2017
Meritline.com Verified Buyer
Delivery is fast, well protected. Spent half an hour to put all the pieces together(only five pieces plus a glass top), it's not a difficult job, just a cordless driver is enough to finish them all. Looks good, elegant, sturdy. The glass top is rounded every corner. Well worth the money. Actually, the glass top itself is more than 100 bucks from a website selling the tempered glass.
(0 people found this comment helpful, 0 did not)KQJ on 3/23/2017
Showing comments 1-2 of 2
Satisfaction 30 days Return Policy:
Return for refund: 30 days from invoice day
Return for replacement: 30 days from invoice day
 (other terms and condition may apply, please click here for full return policy.)