If you are thinking to cut off your local TV connection then go ahead because now you can stream all your favorite TV shows and latest movies via the Internet. Amazon has reformed home entertainment completely. Its Fire TV and Firestick allows you to go beyond the physical parameters of cable and get entertained online. The Firestick brings the media content digitally to you. You just need to sideload all the third-party applications on your Fire TV and start streaming. So today we are going to talk about 15+ free movie apps for Firestick that you can install on your device. 
You can install these Amazon Firestick movie apps on your TV and enjoy unlimited content for free.
15+ Free Movie Apps for Firestick
Now that we know about Firestick TV and its features, let's move on to the different apps that you can get. You will not find these Firestick movie apps on the Amazon store, so download it in the form of an apk file on your device. If you want you can also download the apps on your Android or iOS device. 
Tubi TV
Tubi TV is an amazing free movie app available on the Apple store as well as Google Play Store. It hosts thousands of TV shows and movies specific for all age groups. You can stream your favorite movies or the latest ones on Tubi TV without any subscription.
The app even houses dozens of TV shows and movies that are difficult to find on other platforms. From comedy to drama, you will find content from all kinds of genres like anime, Korean series, kids content, documentaries, classic programs, action flicks, and even British series. Tubi TV is compatible with Firestick and so just open your device and app and start playing.  
Features-
Compatible with smart TV, Roku, Xbox, and even supports Chromecast.

Quick loading with free legal content.

You can resume watching where you left on different devices.

Home to a large media library of high quality.
Download Tubi TV on Android| iOS. 
 Kodi
An open-source platform that allows you to stream content online for free is Kodi. This media player allows you to watch a number of movies and TV shows without any subscription fees. Kodi consists of repositories and add-ons. The various files are stored in the repository and so you can download the files and then install the ad-on.
The process is very easy and within minutes you can get access to a wide range of movies, videos, TV shows, music, and more that you can play using Amazon Firestick.
Also Read: How to Jailbreak FireStick
Features-
It is an entertainment powerhouse. 

You can install many add-ons within a single app.

Different add-ons are created aiming at specific genres and content. 

The Kodi app is very easy to use and the installation of add-ons is also very easy.

The best Kodi Add-ons include Covenant, Exodus, Poseidon, Redemption, and Neptune Rising. 
Download Kodi for Android. 
Vudu
Another free movie app that has been in the market for a long is the Vudu application. It is a popular platform that hosts full-length movies in HD quality. 1080p streaming, crystal clear sound, and clean interface make it an amazing content delivery app. Here you will get movies from all genres say crime, action, thriller, comedy, romance, family, and kids. Registration with Vudu is absolutely free.
You can check out the New Movies and Movies on Us tab to access the free content. It is supported by the Ads, however, for ad-free content, you can subscribe to their premium membership. It houses a library of more than 20,000 programs that consist of the best TV shows and movies.   
Notable features-
It supports 4K videos. 

Chromecast option is available.

You can register for free.

There are fewer and shorter ads.
Download Vudu for Android| iOS.
ShowBox
ShowBox is one of the most popular online content streaming platforms. The app is known for its amazing features and talked about because of them. You get a smooth user interface, easy navigation, and an extensive media library at no cost. The app is regularly updated with the latest movies, TV shows, the music of all genres and artists.
So basically the app guides you to various torrent sites and clients for free streaming of the content for free. It is also completely ad-free and so you can enjoy TV shows and movies without any registration or annoying ads. 
Key Features-
You do not require an account to login and access the content.

It supports high-resolution content.

There are no intervening ads.

ShowBox has the most user-friendly interface.
Sony Crackle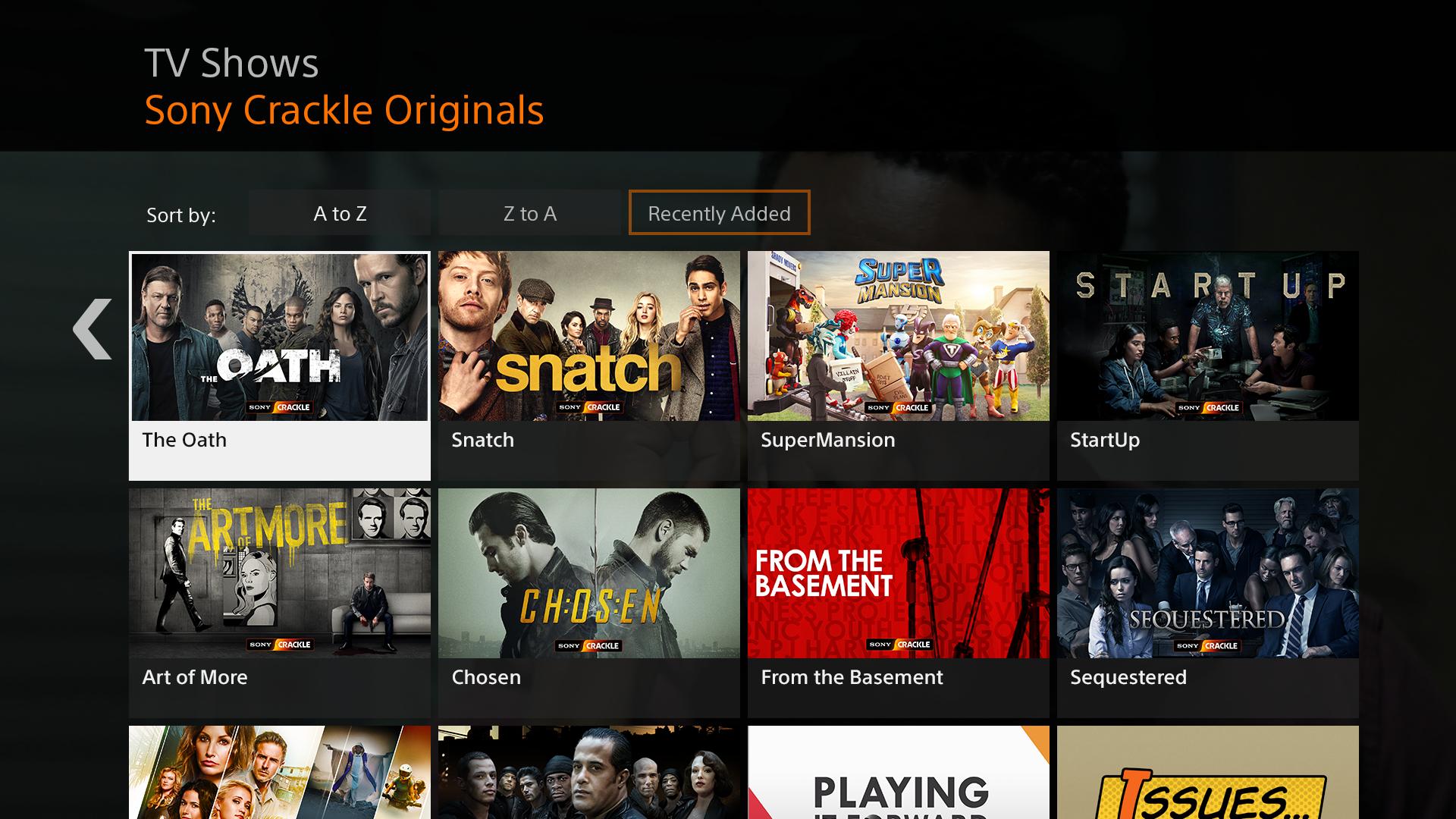 The next app is by Sony Entertainment, called Crackle. This online service is available across more than 20 countries allowing you to stream your favorite TV shows and movies on your FireStick device.
It hosts a large number of movies and TV shows. Being a Sony product it partners with big brands and production houses, and so expect a lot of latest and big-budget movies here. It is absolutely free of cost, and so you will have to bear with the pre-and mid-roll ads.    
Notable Features-
It has a huge library with some outstanding content. 

By creating an account you get access to unlimited content. 

It comes with a Parental Control feature that reduces the risk of children getting exposed to adult content. 
Download Crackle for Android| iOS
BBC iPlayer
If you are living in the United Kingdom, then the best free movie app for Firestick device is the BBC iPlayer. It is an incredibly popular streaming service that allows streaming on movies, documentaries, music, news, TV shows, and much more BBC content for free.
It has an exciting number of HD content that is available in and around the UK. If you use some broadcasting or streaming partner then you can stream BBC content outside the United Kingdom as well. So if you know the trick you can stream it across the globe. 
Key Features-
It hosts a huge library of movies and TV shows. 

It is popular in the United Kingdom.

It hosts premium quality content for free. 

You can easily Chromecast it on your TV or your Firestick device.  
To Download BBC iPlayer for Android
CyberFlix TV
If you have used the Terrarium TV app before then you would absolutely love the CyberFlix TV app. After the shutdown of Terrarium TV various clones popped up. Out of these CyberFlix happened to be the best and most close parent app. The app is not only a clone in its features but also functions like it.
It holds a solid collection of TV shows and movies. The app gets all the stream links from different sources. If you want to have access to the full-HD content, then you can log in with your Real Debrid account as well.  
Key Features-
CyberFlix features and functions like the popular Terrarium TV app.

It is house to a solid collection of movies and TV shows. 

Its sort and search feature allows you to have quick access to your favorite videos. 

With a Real Debrid account, you can get access to high-quality content.
Download CyberFlix TV for Android| iOS
Cinema Apk
Another extremely popular Android app to stream movies for free is Cinema Ap. It gained popularity immediately after Terrarium TV. Here you will get an unlimited entertainment and so it is one of the must have movie apps for Firestick. The app's active team of developers keeps the platform updated with the latest content. Cinema Apk basically collects all the streaming links from different sources and servers hosted in different locations. It doesn't have any content of its own. 
Also Read: How to Install Netflix on Firestick
Notable Features-
Cinema Apk is a lightweight app for Firestick.

User-friendly with easy navigation and interaction. 

It hosts links from different sources. 

It is regularly updated with new movies and TV shows.
Download Cinema Apk for Android| iOS
Titanium TV 
Titanium TV is also just like Terrarium TV. Its features and function are an exact replica of Terrarium TV so much that it seems that both the apps are written by the same codes. It has a huge catalog of TV shows, movies, music, news, videos and more that you can stream in HD quality. It gets some high-quality inks for you from multiple servers including 4K streams. And just like CyberFlix TV, it presents you more number of HD links with a Real Debrid account.
Key Features-
It is an extremely lightweight app that has a massive media library

Titanium TV can be installed easily.

It is compatible with Firestick, Fire TV, Fire TV Stick 4K, and Cube. 

It brings the HD quality links to its users. 
Download Titanium TV for Android
CatMouse 
The last free movie apps for Firestick that is quite a on demand right now is CatMouse. It's a new app that hosts the latest and most desired TV shows and movies. It is another clone of Terrarium TV and is completely safe to use. It has got all positive reviews and is working impressively right now. You can binge-watch your favorite videos or shows from its large amount of content. Here you will find dozens of HD streams that are scraped from top web sources.    
Notable Features-
Compatible with Firestick devices.

CatMouse is working impressively. 

It offers a huge amount of content to its users. 

It hosts dozens of HD inks from multiple sources. 
Download CatMouse for Android
Other Free Movie Apps for Firestick
Tubi TV

Kodi

Vudu

ShowBox

Sony Crackle

BBC iPlayer

CyberFlix TV

Cinema Apk

Titanium TV 

CatMouse 
Wrapping Up
These were the top movie apps for Firestick that you can download and install on your device for free streaming of movies and TV shows. If we have missed out on any other good app, then do let us know in the comment section.